Community Money Hubs
Following the resident's research, 'Helping Prevent and Improve Money Problems; Ensuring We Hear People', one of the suggestions from residents, was an opportunity to meet with others for support. A small grant has been secured to start these off in neighbourhoods across the city
October 2018 – December 2019
Residents research in Aspley, Bestwood & Bulwell, Clifton & Meadows, St Ann's & Sneinton
(for Nottingham Financial Resilience Partnership)
Interviews with people in the above neighbourhoods who are experiencing or who have experienced money problems in the last year, to help identify key issues and priorities for the Nottingham Financial Resilience Action Plan. It was also to help identify ways in which people would like their voices to be heard going forward.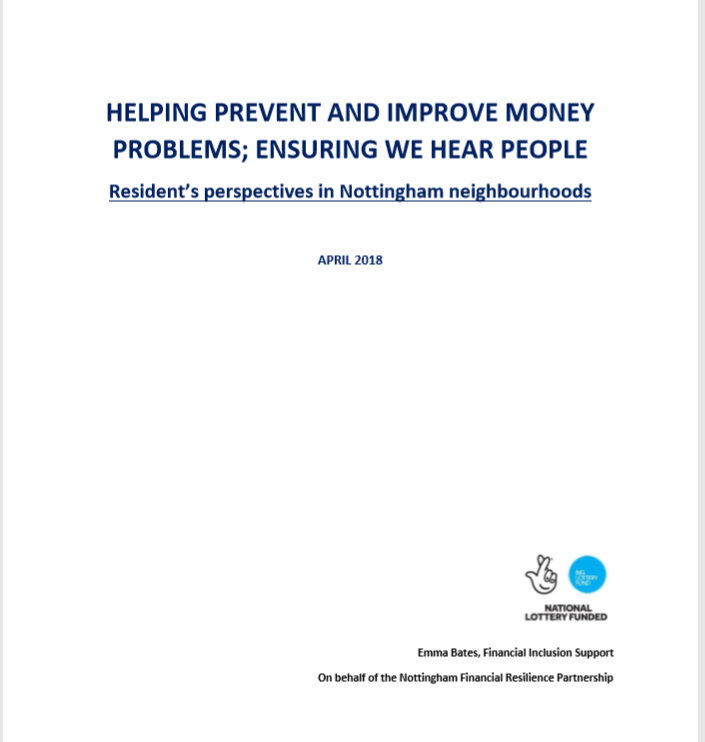 The report has now been presented to the Nottingham Financial Resilience Partnership and has then been distributed widely in the city. We are indebted to those who took part and shared their stories. For copies of the report, please do contact us.
July 2017 – January 2018
Nottingham Bank Summit
(for Nottingham Financial Resilience Partnership)
Nottingham Bank Summit was held on 27 February 2017, bringing together banks in the city and key financial resilience partners, resulting in key pledges for action to improve bank account access.
Bank Summit meetings have continued approx every six months since then. The latest meeting was held 1st November 2018. Meetings are proving very useful for all partners in addressing imporving access to bank accounts for various vulnerable groups and those who may struggle with ID.